You wouldn't be here if you weren't curious.*
Hallo! Ich bin Elena! Willkommen auf meinem Reiseblog Creativelena.com.
Ich bin die Kreativreisende, und Du offensichtlich neugierig.
*Was ist "Kreativ Reisen"? Antworten auf diese und viele weitere Fragen liefert Dir mein Reisehandbuch "The Creative Traveler's Handbook". Am liebsten reise ich im Rhythmus der Einheimischen und bin dazu bereits ein paar Mal um die Welt. Sechssprachig. Mit viel Charme, Herz und Hirn. Dies hat mich sowohl ruhig als auch rastlos gestimmt: In der Fähigkeit, inspirierende Geschichten über außergewöhnliche Menschen und Regionen zu erzählen, liegt mein größtes Lebensglück. Viel Vergnügen & Inspiration beim Stöbern durch meine Reisegeschichten!
NÖVOG English Language Training in Lower Austria
The first few flowers of spring are blossoming in front of the Schneeberghof hotel. A large salamander, painted in yellow & green, catches my eye looking up the main station: "Welcome to Puchberg at the Schneeberg mountain, 577 metres above sea level, Lower Austria's famous climatic spa resort!" The air that you breathe here is especially good for your health, the mighty Schneeberg mountain towering 2.075 metres above sea level as a protective, snow-covered giant over the pretty village of Puchberg at the foothill of the Eastern Alps. I have travelled here to teach members of the NÖVOG Schneebergbahn mountain railway English conversation and grammar practice ahead of the main tourism season. At the end now, I do already miss my team: Thank you so much for the great time we shared!
Day after day, the team works hard to master English …
… and we both learn from each other: How does the train company actually work? How do I ask for the way (and how do I actually ask questions, in English)? What do I ask? How do I talk about  the time and train timetables? What can we tell visitors about the Schneeberg mountain, its famous mountain railway, attractions & travel information in English language?
For the beginners' team, it certainly was no easy task to pick up another language "just like that". All of them, mostly men between 25 and 55 with little or no English skills prior to the training, are thoroughly enjoying themselves though, last but not least because of the excellent communication we share. There is a lot of teasing that goes well with the learning process, I find. Fun & practice instills confidence!
Soon, the language training seminars "Tourism English for NÖVOG train drivers" that we have developed to be tailor-made to the needs and requirements of the Puchberg train company team bear fruit. We learn about the basics of everyday communication with visitors and gain more & more confidence as well as trust in speaking for ourselves while "out there" with foreign, non-German speaking visitors. I really enjoy the pretty environment, too, "spoiling myself" to a luxury travel experience at the Schneeberghof hotel ahead of arriving and working in Puchberg. Such are the magnificent panoramic views you can enjoy from the hotel, that I really want to come back soon. Check this out!
Languages are fascinating to me. I am all the happier for knowing that our kick-off workshop at the beginning of this season has already been useful in the preparation of this series of language trainings. Thank you to all the employees at the NÖVOG train company in Puchberg for your unfaltering enthusiasm: I already miss working with you guys. Let us hope there will be even more inspiring tourism training workshops in English language with you!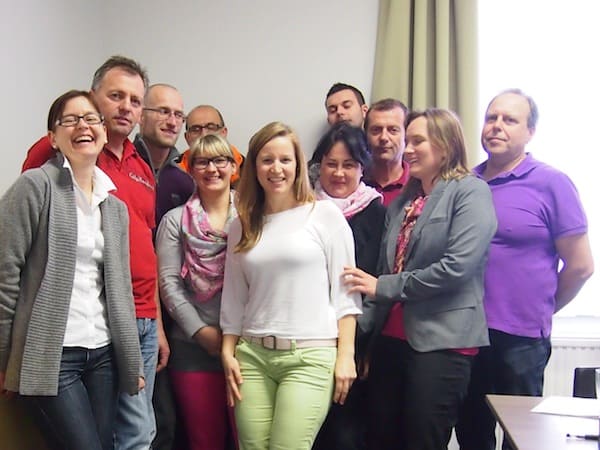 Bereit für den weltweiten Trend zum Kreativ Reisen?
Elena hat das international beachtete Handbuch mit dem Namen "The Creative Traveler's Handbook" in englischer Sprache herausgegeben. Darin enthalten sind unzählige Geschichten, Reisetipps und Ideen für die Planung Eures nächsten Kreativurlaubes. Hier geht's zur
eigenen Ausgabe
!
The access_token provided is invalid.